Prizewinners
---
The 2023 prizewinners were announced on 5 April 2023:
The SLSA book prize was launched in 2001 at the same time as the SLSA article prize. The prize for early career academics was added in 2004. These three prizes are generously sponsored by Hart Publishing. Each year Hart prizewinners receive their awards at the SLSA annual conference and since 2010 have taken part in author-meets-reader sessions at the conference. The full list of all past winners is published below.
In 2011 the SLSA Executive Committee announced a new prize sponsored by a private benefactor: the SLSA Prize for Contributions to the Socio-Legal Community and the Socio-Legal Theory and History Prize was first awarded in 2015 – also sponsored by a private benefactor.
---
SLSA Prize for Contributions to the Socio-Legal Community
2022
Richard Collier
Kathryn Hollingsworth and Sally Sheldon wrote in SLN 98 ...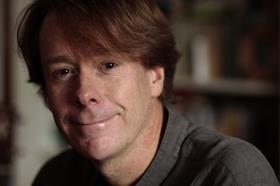 During his 30-year career, Richard has forged new areas of enquiry in socio-legal studies: in gender and masculinities, and wellbeing and the legal profession (for which he was awarded a Leverhulme Fellowship). He has built new bridges with the profession that have helped illuminate and address some of the systemic gender and mental health challenges facing legal practitioners. Richard served for over a decade on the SLSA executive board (including as Secretary and coordinator of prizes), and 23 years on the editorial board of Social and Legal Studies, including four as a co-ordinating editor. In these roles, he has offered thoughtful, insight-ful and constructive feedback on hundreds of submissions, re-flecting his commit-ment to supporting and developing the next generation of scholars. In his teaching, Richard's passion and care, along with his depth of expertise, support students to develop new ways of think ing, seeing and 'doing' family law. He has given invited lectures, examined PhDs, and co-authored with colleagues across the world. He is a Fellow of the Academy of Social Sciences and the Royal Society of Arts. He is also the most humble, unassuming, thoughtful and caring of colleagues who never talks about his own numerous achievements, despite there being so many (including as a guitar-playing songwriter of – in his words – 'jingly jangly' pop!).
---
2021
Caroline Hunter
Helen Carr and Jed Meers wrote in SLN 95 ...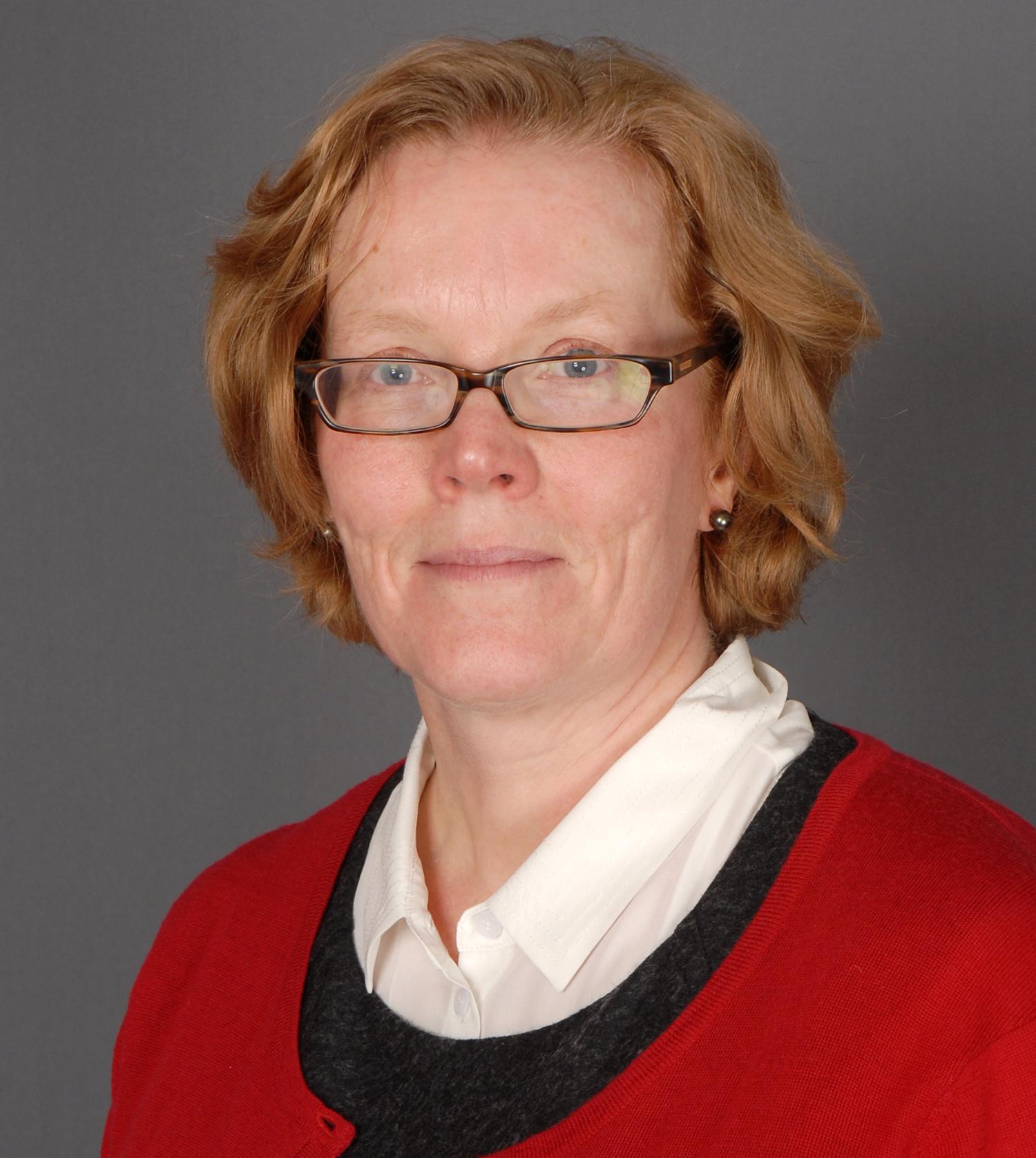 'Caroline Hunter has been a leading socio-legal scholar for nearly three decades. She has specialised in housing and homelessness law, drawing from her years in practice at Arden Chambers and from her concern for the socially excluded and the vulnerable. Her work is characterised by its methodological and doctrinal rigour and by intellectual curiosity. Caroline Hunter has been a leading socio-legal scholar for nearly three decades. She has specialised in housing and homelessness law, drawing from her years in practice at Arden Chambers and from her concern for the socially excluded and the vulnerable. Her work is characterised by its methodological and doctrinal rigour and by intellectual curiosity. This means she has not been a stranger to controversy. David Blunkett took personal issue with her conclusions on the impact of ASBOs on vulnerable people, and her work with Judy Nixon suggesting that the Dundee Families project led to some positive outcomes for the women involved was attacked by scholars intellectually opposed to state intervention. Her contributions to socio-legal studies include:
establishing a template and reputation for funded empirical work;
bringing the doctrinal and the socio-legal into productive conversation;
introducing new subjects to socio-legal scholarship, such as mothers abused by their children and most recently property guardians;
pioneering collaborative work, for instance with housing studies and social policy colleagues at the York Centre for Housing Policy and Centre for Regional Economic and Social Research, Sheffield Hallam University;
international collaborations including teaching housing law at Oñati;

and

trailblazing the incorporation of socio-legal studies into the law curriculum – including widespread writing in edited collections and journals on socio-legally informed pedagogy.
Her work has always been impactful, long before this was recognised as an essential part of research quality. She has used her long-standing leadership of York Law School to enhance the reputation of socio-legal scholarship, hosting a very successful SLSA Annual Conference in 2013 and due to host a second one in 2022, and supervising a number of PhD candidates in socio-legal studies. All of these achievements are impressive enough in their own right, however, Caroline's leadership and accomplishments are even more of an inspiration to many following a significant stroke in 2015. Caroline's bravery and the speed with which she returned to her work demonstrated her commitment to socio-legal studies and legal higher education more broadly.'
---
2020
David Cowan
Sally Wheeler wrote in SLN 92 ...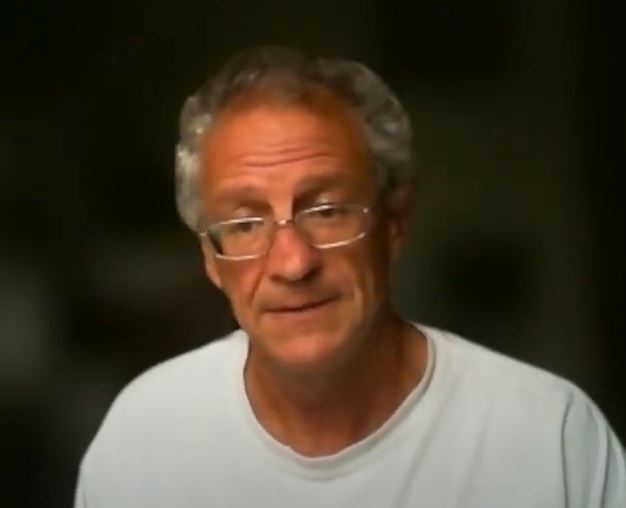 'I am so pleased that Dave is being awarded this prize. Over the years his contribution to the socio-legal community has been immeasurable, often in ways that academic life does not reward properly. He is also one of the nicest and most generous people I know. Dave has forged a field of research in housing law and attracted a great deal of research council and other funding, often working in partnership with NGOs. He has built a vibrant community of scholars around him through his strong peer support and creation of opportunities. He is a well-published academic in his own right and is also editor of the socio-legal book series, launched by Palgrave Macmillan in 2012 (which currently contains 36 titles, including a number that have won SLSA prizes). This is a role he takes incredibly seriously and devotes a considerable amount of time to. The series is a success because Dave has made it one. A lot of first-time authors have published monographs in the series, often working with Dave to transform their PhD theses into books, for example, Faith Gordon and Emilie Cloatre. In addition, he was an extremely effective vice chair of the SLSA through some of its most financially difficult years (serving in the role for over five years in two separate terms), and he contributed to the annual SLSA Postgraduate Conference for around 20 years. Many of his PhD students have gone on to be successful academics in their own right, including Morag McDermott and Jess Hambly. His mentoring of early career scholars and his broader contributions have significantly shaped the field of socio-legal studies.'
---
2019
Robert Dingwall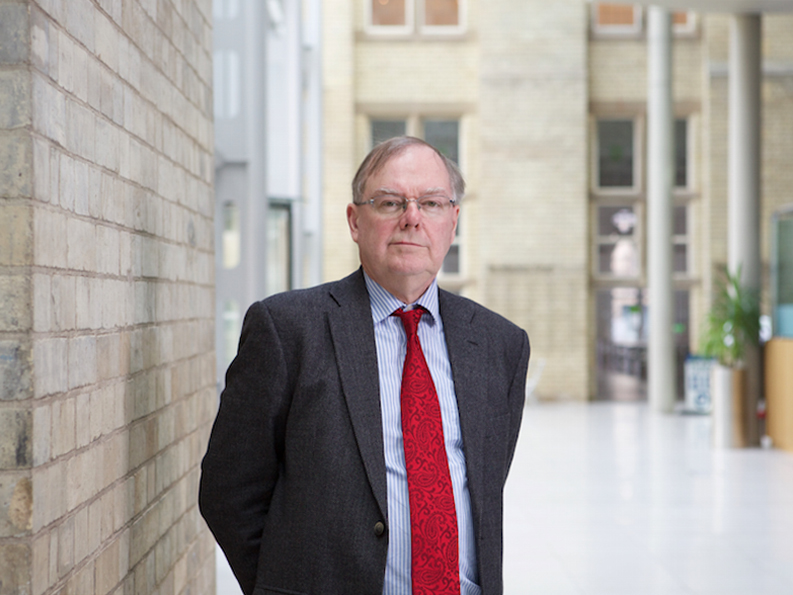 Robert has had a long and illustrious career in socio-legal studies and sociology of law, including positions at the Centre for Socio-Legal Studies at the University of Oxford, the University of Nottingham and, latterly, at Nottingham Trent University. Robert's work has made a significant contribution to the discipline and spans a number of fields, most notably medicolegal, sociology of the professions, ethics and methodology. Never afraid to be controversial, some of his work has formed the basis of intense debate. In particular, his work on power relations in mediation (with David Greatbatch), which catalysed heated debate in the mediation community, has weathered the storm caused by the findings and has since become a seminal text in the field. He is an outstanding scholar whose range of theoretically driven insights over wide areas have been incredibly influential across our discipline. He has, both personally and through his methodological publications, been responsible for developing and maintaining training for interdisciplinary socio-legal doctoral students. In the round, Robert has been and continues to be a committed, supportive and thoughtful member of, and mentor in, our community. We are delighted to have the opportunity to thank him for his contributions to socio-legal studies.
For more information about Robert's career and current interests, see his personal website and his NTU profile.
---
2018
Fiona Cownie and Tony Bradney
Tony Bradney and Fiona Cownie (or should it be Fiona and Tony?) constitute a wonderful academic couple. They are far too modest to claim it, so I do it on their behalf. Over decades they have produced path-breaking scholarship in the fields of legal education, study skills, legal profession, and law and religion. As a duo, they have written fine illustrations of socio-legal scholarship and pedagogical innovation. For example, their book English Legal System in Context is now in its 6th edition and How to Study Law has reached its 8th edition.
Their selfless contribution to the SLSA stretches over decades. Both have served more than once on the Executive, having held the offices of vice chair (Fiona 1993–1999 and Tony 2004–2008) and membership secretary. They were central contributors to the SLSA Postgraduate Conferences, finally stepping down in January 2018. And they have been present and active at the SLSA Annual Conference since time immemorial, running the stimulating legal education stream. They are kind, progressive, thoughtful, understated people who merit the public recognition awarded by the SLSA.
They are now beginning to contemplate professorial retirement from the University of Keele where Fiona is a Pro Vice Chancellor. They expect to live partly in France, but we know academics never really retire. They will return and return to do what they do best for the betterment of the socio-legal community and the SLSA. We look forward to seeing them in Leeds in April 2019. Phil Thomas (SLN 86:1)
---
2017
Mike Adler
Mike is Emeritus Professor of Socio-Legal Studies in the School of Social and Political Science at the University of Edinburgh.His contributions to the development of socio-legal studies over the last 40 years have been both extensive and ground-breaking. His outstanding contributions have been particularly strongly felt in the areas of administrative justice and social welfare law. Mike has been an active member of the SLSA since its inception in 1990, previously hosting the conference and serving on the Exec. His contributions have spanned the full suite of socio-legal activities, including serving the community as co-editor of the European Journal of Social Security, as chair of the ESRC's Socio-Legal and Criminology Committee for a number of years, and as a member of the Scottish Committee of the Administrative Justice and Tribunals Council. Perhaps Mike's greatest contributions to the socio-legal community have been through his unswerving support for and encouragement of doctoral researchers and early career scholars. As well as supervising many graduate students, and examining innumerable research degrees, Mike has mentored countless socio-legal scholars and helped them on the road to successful careers. Despite retirement, Mike continues to be an active researcher and member of the socio-legal community. His current interests focus on the pressing socio-legal issues of benefit sanctions in social security, the impact of digitisation on dispute resolution, and the definition and enforcement of rights to a social minimum. Mike remains a highly valued and valuable member of the socio-legal community and has given outstanding service to our community throughout his career. Rosie Harding (SLN 83:1)
---
2016
Linda Mulcahy
Linda is Professor of Law, Director of the PhD Academy and Director of the ESRC Doctoral Training Centre at the LSE. Her contributions to the socio-legal community have been many and varied over the last 25 years. She has produced ground-breaking interdisciplinary work on dispute resolution, particularly in the area of medical mishaps, and on law and architecture. She was a member of the SLSA Executive Committee for over 12 years, serving as chair of the association from 1999–2002, and two terms as treasurer, from 1991–1993 and 2010–2013. She has also helped to develop the field of socio-legal studies through her role as coordinating editor of Social and Legal Studies for over 10 years and through her tireless support for postgraduate research students, as an examiner of many socio-legal PhD theses, as a co-organiser of the highly successful SLSA postgraduate conference since its inception, and most recently as organiser of an inter-Doctoral Training Centre initiative to bring ESRC-funded PhD students in socio-legal studies together in a Masterclass with experienced scholars in the field. She is truly a leading citizen of the socio-legal community and has played a very important role in helping socio-legal studies become the dynamic and thriving field it is today. Rosemary Hunter (SLN 80:1)
---
2015
Martin Partington
We are delighted that Martin has won this year's SLSA annual prize. Martin was a founding member of the SLSA who chaired its steering committee and organised its first conference in 1990. Subsequently he served as its chair from 1993–1999. Much of the stuff that we now take for granted is due to him, for example, the various ways of interacting with policymakers and significant subject-specific innovation (housing, administrative justice) as well as a focus on legal education and even the directory of members. Martin co-directed the WG Hart Workshop on Empirical Research in Law at the Institute of Advanced Legal Studies in 2005 and founded the Legal Empirical Research Support Network in 2007. Martin's pioneering publications established housing law, welfare law and administrative justice as significant, and now flourishing, fields for academic enquiry. Grounded in the real world and motivated by social justice, his work has prompted fruitful collaborations with practitioners and policymakers and inspired a generation of both academic and practising lawyers. As a law commissioner, Martin used and developed socio-legal research in an innovative programme of law reform. The Welsh Assembly is currently debating a Bill that will implement his proposed reforms to tenure law, affecting the lives of more than one million people involved in residential renting. Other notable examples of public service include acting as a consultant to the Lord Chancellor's Department/Treasury Review of Legal Aid (1994–1995), as an expert consultant to the Leggatt Review of Tribunals (2000–2001) and as a specialist adviser to the House of Commons Public Administration Select Committee (2011–2012). Most of all, though, he has been a wonderful friend to the next generation of socio-legal scholars. Dave Cowan and Helen Carr (SLN 77:1)
---
2014
Sally Wheeler
Sally Wheeler is one of my oldest and closest academic friends. There are good reasons for this – she took me under her wing in the 1990s and I witnessed first-hand her commitment to the socio-legal cause while she was chair of the SLSA, between 1995–1999 and again from 2002–2009. She fought for that cause in successive RAE/REF consultations and developed close relationships with the ESRC which enabled socio-legal studies to be prioritised. She pushed the agenda for the socio-legal postgraduate community and it is no small thing to say that many of us owe our careers to her. It is fair to say that she does not suffer fools gladly and she can cut me down to size with a withering glance, but the best thing about Sally is that she will pick you up, dust you down, and help you make something of it. There is nobody I know who is more generous of their time both for the community and personally. Sal will not thank me for nominating her for this prestigious award but it is about time we recognised her for her amazing contribution over the last decades. To put her career in a nutshell, she was a professor at a ridiculously young age and head of school for much of her time since at different institutions; she has written seminal texts in her field and beyond, and been on two RAE panels; and, most of all, for myself and Linda Mulcahy she has been our conference buddy at numerous conferences.
If only her beloved Aston Villa had put as much commitment into their football over the last few seasons ... Dave Cowan (SLN 74:1)
---
2013
Roger Cotterrell
Roger is, for most of his peers, the leading social theorist of law and sociologist of law in the UK, and amongst the very best worldwide. He combines highly sophisticated theoretical skills with a masterly capacity to appreciate and synthesize the results of empirical work. In a career spanning almost 40 years he has impressed his stamp on the field in contributions such as The Sociology of Law, The Politics of Jurisprudence and Law's Community. As important, Roger has been a model to generations of colleagues and students. He rose to be Dean at Queen Mary University of London and has been in high demand as a lecturer and examiner in the UK and around the world. He has ensured that socio-legal studies maintains a dialogue with related disciplines and subject areas without being subordinated to them. He is an exemplary scholar and teacher and administrator that our field is fortunate to have produced. David Nelken (SLN 71:1).
For more details about Roger's contributions to the socio-legal community, please follow this link.
---
2012
Phil Thomas
Professor Philip (Phil) Aneurin Thomas has been awarded the 2012 Prize for Contributions to the Socio-legal Community. There can be few people who deserve this honour more than Phil, who occupies a pivotal place in the history of UK socio-legal studies. Starting from a position in the 1960s in which he believed that UK legal education was not fit for purpose, much of what socio-legal academics now regard as obvious and apparent owes itself in part to Phil. That is not to say that there is not a considerable amount more to do, but what we can be sure of is that Phil, with his academic entrepreneurial antenna intact, will be at the forefront. Most current members will know him as the editor of the Journal of Law and Society (JLS), a journal which he, together with some of his colleagues at Cardiff, founded in 1974. Phil was also a founding member of the SLSA itself and, for many years, a member of its Executive Committee. The relationship between the JLS and SLSA remains strong as a result. In the 1990s, Phil persuaded Dartmouth to publish a series of monographs and edited collections as a socio-legal series, and himself edited, in 1999, Socio-Legal Studies. His introduction to that collection is what I think about as 'pure Phil'; jovial as always but with a cutting-edge mission to nail the significance and problematics inherent in the socio-legal label. It should be compulsory reading for all. I could run through Phil's many publications or his career posts and his many achievements but they are not why I nominated him for the prize because Phil's contribution transcends all that; many of us (including me) owe our entire careers to him. When it was not fashionable, he acted as our mentor; at a time when early career scholars and doctoral students were largely left to sink or swim, he was there to help (a role which he continues to play through the JLS, funding bursaries at the SLSA conference, setting up and presenting at the postgraduate conference, and through general encouragement). For me personally, when nobody would publish my work or look at my book proposal in the early 1990s, he took me on and offered valuable advice right down to how to write. There are many other 'pure Phil' nuggets which I and others will, no doubt, share with you when the prize is awarded at the 2013 York conference. Dave Cowan (SLN 68:1)
---
2011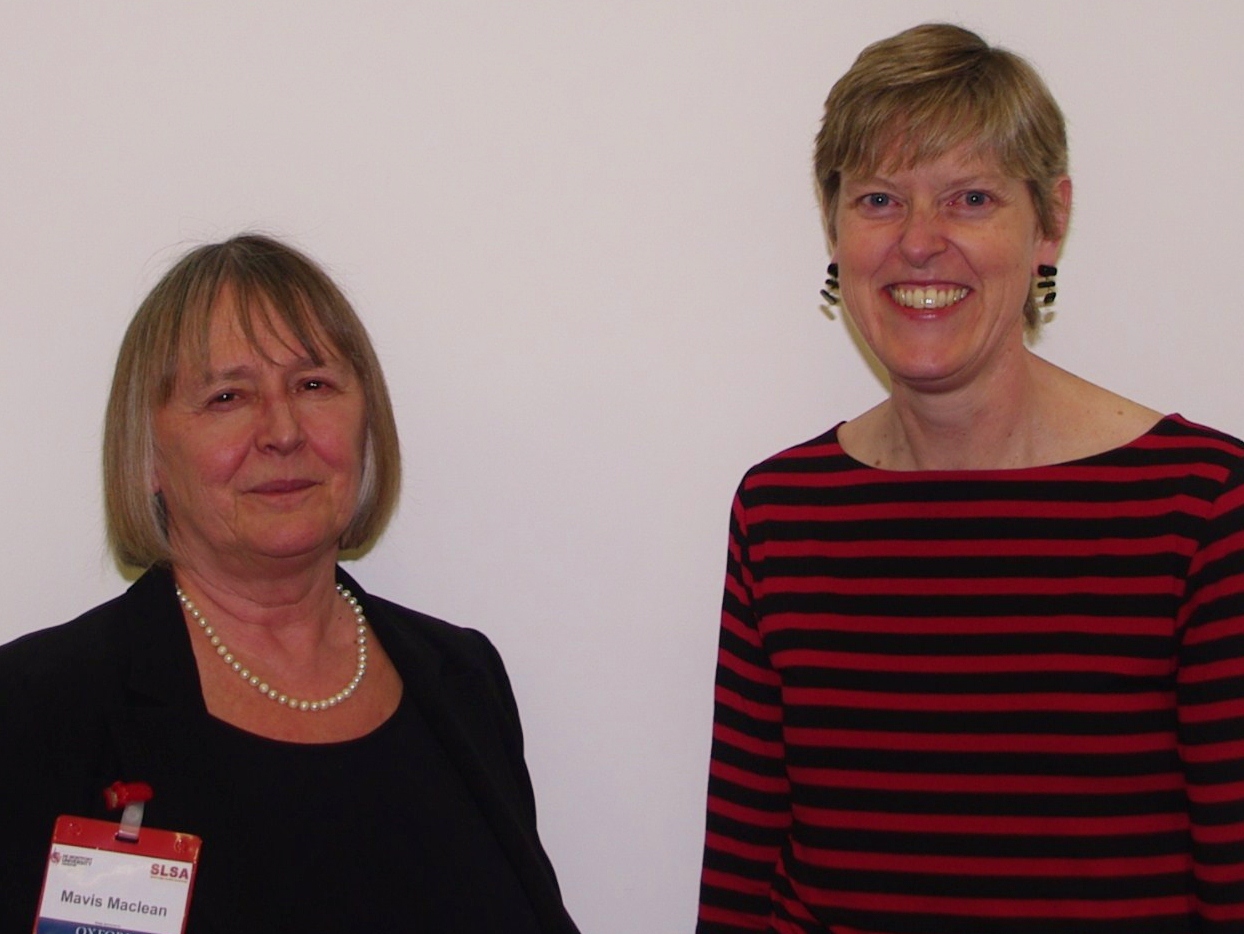 Mavis Maclean
Mavis has nurtured the careers of generations of socio-legal scholars, particularly in the family law area. She has been an amazing mentor, has introduced young scholars to her extensive networks and created valuable opportunities for them to present and publish their work. She has also acted as an important link between the academic and policy communities, not only providing academics with access to policymakers, but ensuring that policymakers received the best advice from the right experts. In doing so, she has promoted significant reforms and, just as importantly, has helped to avert some foreseeably adverse outcomes. In addition, her contributions extend to her own research, which has broken new ground both substantively and methodologically. Indeed, the fact that family law is such a thriving field of socio-legal research and teaching is due in no small part to Mavis's example and her encouragement and training of others to engage in this form of scholarship, as well as her fostering of scholarship through book and journal editing.
Even after her 'retirement', Mavis continues to be active in research, editing, mentoring, networking, policy engagement and strategising. It is hard to imagine the socio-legal community without her. (SLN 65:1)
---
Hart–SLSA Book Prize
2023
Silvana Tapia Tapia (2022) Feminism, Violence Against Women and Law Reform: Decolonial Lessons from Ecuador Routledge
2022
Mark Massoud (2021) Shari'a, Inshallah: Finding God in Somali Legal Politics Cambridge University Press
2021
Nesam McMillan (2020) Imagining the International: Crime, justice, and the promise of community (The Cultural Lives of Law), Stanford University Press
2020
Kate Bedford (2019) Bingo Capitalism: The Law and Political Economy of Everyday Gambling, Oxford University Press
2019
Charlotte O'Brien (2017) Unity in Adversity: EU citizenship, social justice and the cautionary tale of the UK, Hart/Bloomsbury
2018
Anne Barlow, Rosemary Hunter, Janet Smithson and Jan Ewing (2017) Mapping Paths to Family Justice: Resolving family disputes in neo-liberal times, Palgrave Macmillan
2017
Lizzie Barmes (2016) Bullying and Behavioural Conflict at Work: The duality of individual rights, Oxford University Press
2016
Luis Eslava (2015) Local Space, Global Life: The everyday operation of international law and development, Cambridge University Press
2015
Alan Paterson (2013) Final Judgment: The last Law Lords and the Supreme Court, Hart
2014
Emilie Cloatre (2013) Pills for the Poorest: An exploration of TRIPS and Access to Medication in Sub-Saharan Africa, Palgrave Macmillan
2013
Nicola Barker (2012) Not the Marrying Kind: A feminist critique of same-sex marriage, Palgrave Macmillan
2012
Nicholas Blomley (2011) Rights of Passage: Sidewalks and the regulation of public flow, Routledge/Glasshouse
Didi Herman (2011) An Unfortunate Coincidence: Jews, Jewishness, and English Law, Oxford University Press
2011
Rosie Harding (2010) Regulating Sexuality: Legal consciousness in lesbian and gay lives, Routledge
2010
David Fraser (2008) The Fragility of Law: Constitutional patriotism and the Jews of Belgium 1940-1945,Routledge
2009
Christine Bell (2008) On the Law of Peace: Peace agreements and the lex pacificatoria, Oxford University Press
2008
Stephen Bottomley (2007) The Constitutional Corporation: Rethinking corporate governance, Ashgate
2007
Awarded jointly
Nigel Fielding (2006) Courting Violence: offences against the person cases in court, Oxford University Press
Anthony Ogus (2006) Costs and Cautionary Tales: economic insights for the law, Hart Publishing
2006
Awarded jointly:
Katjia Franko Aas (2005) Sentencing in the Age of Information: from Faust to Macintosh, Glasshouse Press
Alan Norrie (2005) Law and The Beautiful Soul, Glasshouse Press
2005
Roy Coleman (2004) Reclaiming the Streets, Willan Publishing
2004
Helen Reece (2003) Divorcing Responsibly, Hart Publishing
2001
Annette Ballinger (2000) Dead Woman Walking, Ashgate
---
Hart–SLSA Prize for Early Career Academics
2023
Jaime T Lindsey (2022) Reimagining the Court of Protection: Access to Justice in Mental Capacity Law Cambridge University Press
2022
Hedi Viterbo (2021) Problematizing Law, Rights, and Childhood in Israel/Palestine Cambridge University Press
2021
Seán Columb (2020) Trading Life: Organ trafficking, illicit networks, and exploitation, Stanford University Press
2020
Insa Koch (2018) Personalising the State: An anthropology of law, politics and welfare in austerity Britain, Oxford University Press
2019
Maureen Duffy (2018) Detention of Terrorism Suspects: Political discourse and fragmented practices, Hart/Bloomsbury
2018
Lydia Hayes (2017) Stories of Care: A labour of law, Palgrave Macmillan
2017
Sue Westwood (2016) Aging, Gender and Sexuality: Equality in later life, Routledge
2016
Luis Eslava (2015) Local Space, Global Life: The everyday operation of international law and development, Cambridge University Press
2015
Awarded jointly:
Debbie Becher (2014) Private Property and Public Power: Eminent domain in Philadelphia, OUP
Kirsten McConnachie (2014) Governing Refugees: Justice, order and legal pluralism, Routledge
2014
Nevin T Aiken (2013) Identity, Reconciliation and Transitional Justice: Overcoming intractability in divided societies, Routledge
2013
Not awarded
2012
Prabha Kotiswaran (2011) Dangerous Sex, Invisible Labour: Sex work and the law in India, Princeton University Press
Lisa Vanhala (2011) Making Rights a Reality? Disability Rights Activists and Legal Mobilization, Cambridge University Press
2011
Rosie Harding (2010) Regulating Sexuality: Legal consciousness in lesbian and gay lives, Routledge
2010
Not awarded
2009
Louis Mallinder (2008) Amnesty, Human Rights and Political Transition: Bridging the peace and justice divide, Hart
2008
David Keane (2007) Caste-Based Discrimination in International Human Rights Law, Ashgate
2007
Philip Hadfield (2006) Bar Wars:contesting the night in contemporary British cities, Oxford University Press
2006
Lee Marshal, Bootlegging: Romanticism and copyright in the music industry, Sage
2005
Christopher Waters, Counsel in the Caucasus – Professionalization and law in Georgia, Martinus Nijhoff
2004
Bronwen Morgan (2003) Social Citizenship in the Shadow of Competition, Ashgate
---
Socio-Legal Theory and History Prize
---
2023
Sharon Thompson (2022) Quiet Revolutionaries: The Married Women's Association and Family Law Hart
2022
Jana Norman (2021) Posthuman Legal Subjectivity: Reimagining the Human in the Anthropocene Routledge
2021
Nadine El-Enany (2020) (B)ordering Britain: Law, Race and Empire, Manchester University Press
2020
Kate Seear (2019) Law, Drugs and the Making of Addiction: Just Habits, Routledge
2019
David Churchill (2017) Crime Control and Everyday Life in the Victorian City: The police and the public, Oxford University Press
2018
Margaret Davies (2017) Law Unlimited: Materialism, Pluralism and Legal Theory, Routledge
2017
Emily Grabham (2016) Brewing Legal Times: Things, form, and the enactment of law, Toronto University Press
2016
Jiří Přibáň (2015) Sovereignty in Post-Sovereign Society, Ashgate
2015
Henry Yeomans (2014) Alcohol and Moral Regulation: Public attitudes, spirited measures and Victorian hangovers, Policy Press
---
Socio-Legal Article Prize
---
2023
Natalie Ohana (2021) 'The politics of the production of knowledge on trauma: the Grenfell Tower Inquiry' 48(4) Journal of Law and Society 497–523
2022
Nafay Choudhury (2021) 'Order in the Bazaar: The Transformation of Non-State Law in Afghanistan's Premier Money Exchange Market' Law and Social Inquiry
2021
Helen Stalford and Kathryn Hollingsworth (2020) '"This case is about you and your future": towards judgments for children' Modern Law Review 85(3): 1030–1058
2020
Jane Scoular, Jane Pitcher, Teela Sanders, Rosie Campbell and Stewart Cunningham (2019) 'Beyond the gaze and well beyond Wolfenden: the practices and rationalities of regulating and policing sex work in the digital age' 46(2) Journal of Law and Society 211–239
2019
Máiréad Enright (2019) "'No. I won't go back': national time, trauma and legacies of symphysiotomy in Ireland' in S M Benyon-Jones and E Grabham (eds), Law and Time, Routledge, 46–74
Marie Fox and Michael Thomson (2017) 'Bodily integrity, embodiment, and the regulation of parental choice' 44(4) Journal of Law and Society 501–31
2018
Emily Grabham (2016) 'Time and technique: the legal lives of the 26-week qualifying period' 45 (3–4) Economy and Society 379–406
2017
Helen Carr (2015) 'Legal technology in an age of austerity: documentation, "functional" incontinence and the problem of dignity' in Dave Cowan and Dan Wincott (eds), Exploring the Legal in Socio-Legal Studies, Palgrave
2016
Lynette Chua (2015) 'The vernacular mobilization of human rights in Myanmar's sexual orientation and gender identity movement' 49(2) Law and Society Review 299–332
2015
Amanda Perry-Kessaris (2014) 'The case for a visualised economic sociology of legal development' 67 Current Legal Problems 169
2014
Awarded jointly to:
Sarah Keenan (2013) 'Property as governance: time, space and belonging in Australia's Northern Territory intervention' Modern Law Review 76(3) 464–93
Oishik Sircar (2012) 'Spectacles of emancipation: reading rights differently in India's legal discourse' Osgoode Hall Law Journal 527–73
2013
Marie Fox and Michael Thomson, 'The new politics of male circumcision: HIV/AIDS, health law and social justice' (2012) Legal Studies 32(2): 255–81
2012
Kieran McEvoy, 'What did the lawyers do during the "war"? Neutrality, conflict and the culture of quietism' (2011) MLR 74:350–84
2011
Antonia Layard, 'Shopping in the public realm: a law of place' (2010) Journal of Law and Society 37:412–41
2010
Marie-Andrée Jacob, 'The shared history: unknotting fictive kinship and legal process' (2009) 43 Law and Society Review 95–126
2009
Kieran McEvoy, 'Beyond legalism: towards a thicker understanding of transitional justice' (2007) Journal of Law and Society 34(4):411–40
2008
Donald McGillivray and Jane Holder, 'Locality, environment and law: the case of town and village greens' (2007) International Journal of Law in Context 3:1–17
2007
Daniel Fitzpatrick, 'Evolution and chaos in property rights systems: the Third World tragedy of contested access' (2006) Yale Law Journal 115:996–1048
2006
Helen Carr, 'Someone to watch over me: making supported housing work' (2005) Social and Legal Studies 387–408
2005
Awarded jointly to:
Kieran McEvoy and Heather Conway, 'The dead, the law and the politics of the past' (2004) Journal of Law and Society 31(4): 539–62
Jiri Priban, 'Reconstituting paradise lost: temporality, civility and ethnicity in post-communist constitution-making' (2004) Law and Society Review 38(3): 407–31
2004
Awarded jointly to:
Bronwen Morgan, 'The economization of politics: meta-regulation as a form of nonjudicial legality' (2003) 12(4) Social and Legal Studies 489–523
Amanda Perry-Kessaris, 'Finding and facing facts about legal systems and foreign direct investment in South Asia' (2003) 23(4) Legal Studies 649–89
2003
Claire Valier, 'Punishment, border crossings and the powers of horror' (2002) Theoretical Criminology 6(3): 319–37
2002
Douglas Vick and Kevin Campbell. 'Public protests, private lawsuits, and the market: the investor response to the McLibel case' (2001) Journal of Law and Society 28: 204–41
2001
Daniel Monk, 'Theorizing education law and childhood: constructing the ideal pupil' (2000) British Journal of the Sociology of Education 21(3): 555
---
Poster Competition
---
All the winning posters and a selection of other entries are available on our poster exhibition page.
2023
Winner
Katie Morris, 'Caring about food: rethinking the UK's approach to the right to food through tronto's political theory of care'
Commended
Damarie Kalonzo, 'Kenya's colonial welfare legacy and its impact on care for children with disabilities'

Alanna Kells, 'The legal and ethical implications of the use of ectogenesis for space colonization'
2022
Winner
Sara McIlroy 'The family justice jigsaw: piecing together an investigative process'
Runner-up
Emnani Subhi 'Empowerment versus protection: What should sexual consent look like for adults with intellectual disability?'
2021
Awarded jointly to:
Caoimhe Kiernan 'Can affects inspired by the global feminist judgment projects influence the gender composition of judiciaries?'
Lara Tessaro 'Cosmetic compositions: enacting matter, time, and law with Canadian cosmetic product labelling (1933 - )'
Highly commended:
Megan Johnson 'How does the myth of the Black rapist feature in English rape law? - The myth of the Black rapist: origins, expressions, effects'
Louise McNeil 'Pervasive surveillance: A discourse analysis of changing legal and social controls through surveillance techniques'
2021
Alexandra Murray (2020) 'What does disability look like? Personal independence payments, invisible disability and performing disabled identities'
Jassi Sandhar (2020) '''I am free from the conflict now, but I do not feel free": the experiences of child soldiers in Northern Uganda'
2019
Lauren Cooper, 'Do asylum seekers play an active role in their asylum appeal?'
2018
Rachel Maguire,'Anonymity vs copyright law: regulating creativity in online communities'
2017
Jed Meers, 'Shifting the place of social security: welfare reform and social rights in the UK'
2016
Awarded jointly to:
Bruno Obialo Igwe, 'The impact of domestic violence legal regulation and enforcement in Ireland on Nigerian immigrants'
Stacy Sinclair, 'Designing + (dis)assembling disputes'
2015
Eva Klambauer, 'Sex workers as political actors between criminalisation and employment'
With a special mention for
Titilayo Adebola, 'Implementing obligations under Article 27.3(b) of TRIPS in the Global South'
2014
David Barrett, 'To what extent can equality law be utilised to address socio-economic inequality in Great Britain?'
2013
Rachel Cahill O'Callaghan, 'Personal values: an important element in the diversity debate'
---
Impact Prize
---
2023
Establishing the Liverpool Access to Advice Network: No Wrong Door, Free Legal Advice for All
Host institution: University of Liverpool with lead delivery partner Citizens Advice Liverpool
Research team: Dr James Organ and Dr Jennifer Sigafoos, School of Law and Social Justice, University of Liverpool, and Dr Sophie Wickham, Institute of Population Health, University of Liverpool