Prizewinners
The SLSA book prize was launched in 2001 at the same time as the SLSA article prize. The prize for early career academics was added in 2004. These three prizes are generously sponsored by Hart Publishing. Each year Hart prizewinners receive their awards at the SLSA annual conference and since 2010 have taken part in author-meets-reader sessions at the conference. The full list of all past winners is published below.
In 2011 the SLSA Executive Committee announced a new prize sponsored by a private benefactor: the SLSA Prize for Contributions to the Socio-Legal Community.
---
SLSA Prize for Contributions to the Socio-Legal Community
---
2013
Roger Cotterrell
Roger is, for most of his peers, the leading social theorist of law and sociologist of law in the UK, and amongst the very best worldwide. He combines highly sophisticated theoretical skills with a masterly capacity to appreciate and synthesize the results of empirical work. In a career spanning almost 40 years he has impressed his stamp on the field in contributions such as The Sociology of Law, The Politics of Jurisprudence and Law's Community. As important, Roger has been a model to generations of colleagues and students. He rose to be Dean at Queen Mary University of London and has been in high demand as a lecturer and examiner in the UK and around the world. He has ensured that socio-legal studies maintains a dialogue with related disciplines and subject areas without being subordinated to them. He is an exemplary scholar and teacher and administrator that our field is fortunate to have produced. David Nelken (SLN 71:1).
For more detail about Roger's contributions to the socio-legal community, please follow this link.

2012
Phil Thomas
Professor Philip (Phil) Aneurin Thomas has been awarded the 2012 Prize for Contributions to the Socio-legal Community. There can be few people who deserve this honour more than Phil, who occupies a pivotal place in the history of UK socio-legal studies. Starting from a position in the 1960s in which he believed that UK legal education was not fit for purpose, much of what socio-legal academics now regard as obvious and apparent owes itself in part to Phil. That is not to say that there is not a considerable amount more to do, but what we can be sure of is that Phil, with his academic entrepreneurial antenna intact, will be at the forefront. Most current members will know him as the editor of the Journal of Law and Society (JLS), a journal which he, together with some of his colleagues at Cardiff, founded in 1974. Phil was also a founding member of the SLSA itself and, for many years, a member of its Executive Committee. The relationship between the JLS and SLSA remains strong as a result. In the 1990s, Phil persuaded Dartmouth to publish a series of monographs and edited collections as a socio-legal series, and himself edited, in 1999, Socio-Legal Studies. His introduction to that collection is what I think about as 'pure Phil'; jovial as always but with a cutting-edge mission to nail the significance and problematics inherent in the socio-legal label. It should be compulsory reading for all. I could run through Phil's many publications or his career posts and his many achievements but they are not why I nominated him for the prize because Phil's contribution transcends all that; many of us (including me) owe our entire careers to him. When it was not fashionable, he acted as our mentor; at a time when early career scholars and doctoral students were largely left to sink or swim, he was there to help (a role which he continues to play through the JLS, funding bursaries at the SLSA conference, setting up and presenting at the postgraduate conference, and through general encouragement). For me personally, when nobody would publish my work or look at my book proposal in the early 1990s, he took me on and offered valuable advice right down to how to write. There are many other 'pure Phil' nuggets which I and others will, no doubt, share with you when the prize is awarded at the 2013 York conference. Dave Cowan (SLN 68:1)
2011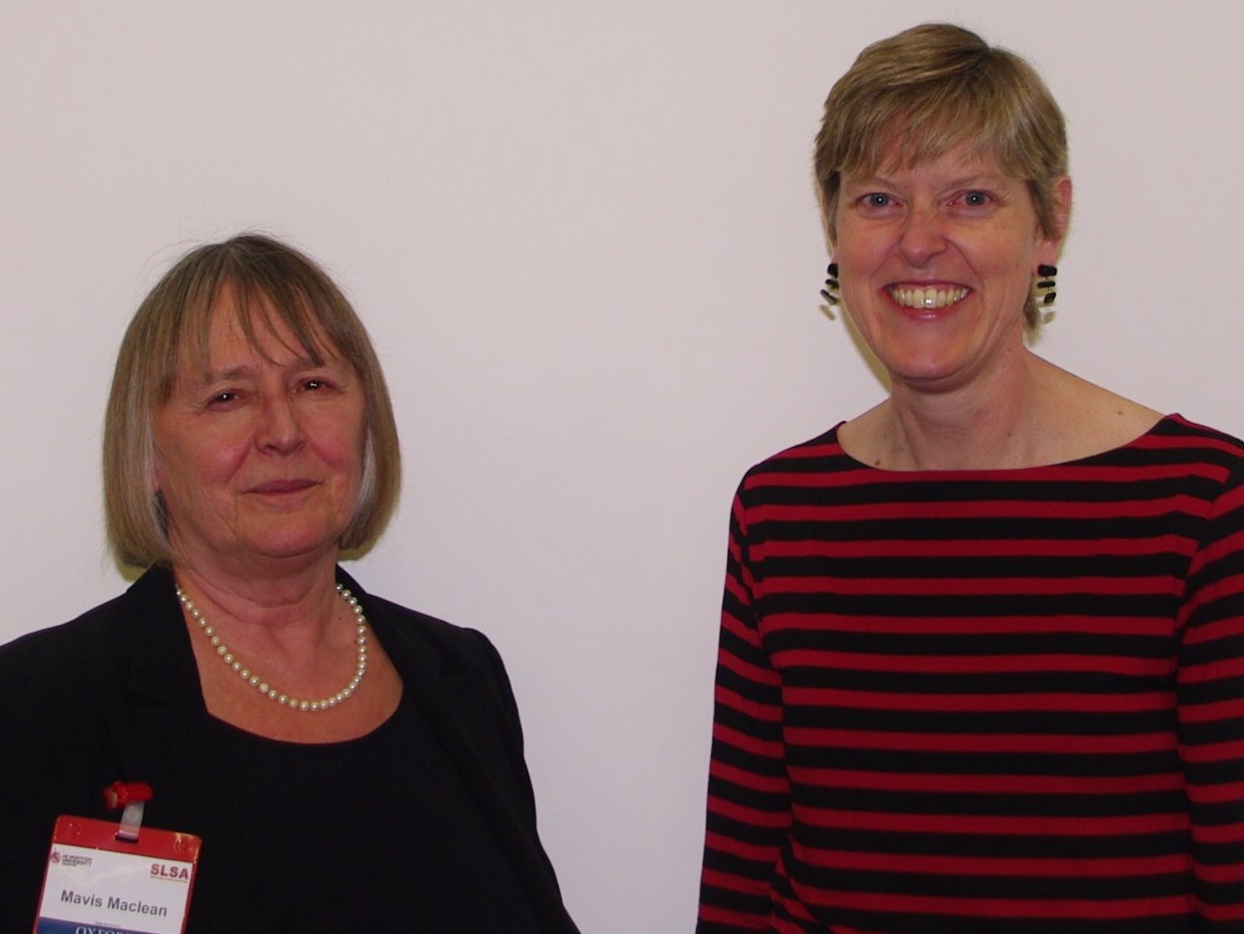 Mavis Maclean
Mavis has nurtured the careers of generations of socio-legal scholars, particularly in the family law area. She has been an amazing mentor, has introduced young scholars to her extensive networks and created valuable opportunities for them to present and publish their work. She has also acted as an important link between the academic and policy communities, not only providing academics with access to policymakers, but ensuring that policymakers received the best advice from the right experts. In doing so, she has promoted significant reforms and, just as importantly, has helped to avert some foreseeably adverse outcomes. In addition, her contributions extend to her own research, which has broken new ground both substantively and methodologically. Indeed, the fact that family law is such a thriving field of socio-legal research and teaching is due in no small part to Mavis's example and her encouragement and training of others to engage in this form of scholarship, as well as her fostering of scholarship through book and journal editing.
Even after her 'retirement',Mavis continues to be active in research, editing, mentoring, networking, policy engagement and strategising. It is hard to imagine the socio-legal community without her. (SLN 65:1)
---
Hart–SLSA Book Prize
---
2013
Nicola Barker (2012) Not the Marrying Kind: A feminist critique of same-sex marriage, Palgrave Macmillan
2012
Nicholas Blomley (2011) Rights of Passage: Sidewalks and the regulation of public flow, Routledge/Glasshouse
Didi Herman (2011) An Unfortunate Coincidence: Jews, Jewishness, and English Law, Oxford University Press
2011
Rosie Harding (2010) Regulating Sexuality: Legal consciousness in lesbian and gay lives, Routledge
2010
David Fraser (2008) The Fragility of Law: Constitutional patriotism and the Jews of Belgium 1940-1945, Routledge
2009
Christine Bell (2008) On the Law of Peace: Peace agreements and the lex pacificatoria, Oxford University Press
2008
Stephen Bottomley (2007) The Constitutional Corporation: Rethinking corporate governance, Ashgate
2007
Awarded jointly
Nigel Fielding (2006) Courting Violence: offences against the person cases in court, Oxford University Press
Anthony Ogus (2006) Costs and Cautionary Tales: economic insights for the law, Hart Publishing
2006
Awarded jointly:
Katjia Franko Aas (2005) Sentencing in the Age of Information: from Faust to Macintosh, Glasshouse Press
Alan Norrie (2005) Law and The Beautiful Soul, Glasshouse Press
2005
Roy Coleman (2004) Reclaiming the Streets, Willan Publishing
2004
Helen Reece (2003) Divorcing Responsibly, Hart
2001
Annette Ballinger (2000) Dead Woman Walking, Ashgate
---
Hart–SLSA Prize for Early Career Academics
---
2012
Prabha Kotiswaran (2011) Dangerous Sex, Invisible Labour: Sex work and the law in India, Princeton University Press
Lisa Vanhala (2011) Making Rights a Reality? Disability Rights Activists and Legal Mobilization, Cambridge University Press
2011
Rosie Harding (2010) Regulating Sexuality: Legal consciousness in lesbian and gay lives, Routledge
2010
Not awarded
2009
Louis Mallinder (2008) Amnesty, Human Rights and Political Transition: Bridging the peace and justice divide, Hart
2008
David Keane (2007) Caste-Based Discrimination in International Human Rights Law, Ashgate
2007
Philip Hadfield (2006) Bar Wars:contesting the night in contemporary British cities, Oxford University Press
2006
Lee Marshal, Bootlegging: Romanticism and copyright in the music industry, Sage
2005
Christopher Waters, Counsel in the Caucasus – Professionalization and law in Georgia, Martinus Nijhoff
2004
Bronwen Morgan (2003) Social Citizenship in the Shadow of Competition, Ashgate
---
SLSA Article Prize
---
2013
Marie Fox and Michael Thomson, 'The new politics of male circumcision: HIV/AIDS, health law and social justice' (2012) Legal Studies 32(2): 255–81
2012
Kieran McEvoy, 'What did the lawyers do during the "war"? Neutrality, conflict and the culture of quietism' (2011) MLR 74:350–84
2011
Antonia Layard, 'Shopping in the public realm: a law of place' (2010) Journal of Law and Society 37:412–41
2010
Marie-Andrée Jacob, 'The shared history: unknotting fictive kinship and legal process' (2009) 43 Law and Society Review 95–126
2009
Kieran McEvoy, 'Beyond legalism: towards a thicker understanding of transitional justice' (2007) Journal of Law and Society 34(4):411–40
2008
Donald McGillivray and Jane Holder, 'Locality, environment and law: the case of town and village greens' (2007) International Journal of Law in Context 3:1–17
2007
Daniel Fitzpatrick, 'Evolution and chaos in property rights systems: the Third World tragedy of contested access' (2006) Yale Law Journal 115:996–1048
2006
Helen Carr, 'Someone to watch over me: making supported housing work' (2005) Social and Legal Studies 387–408
2005
Awarded jointly to:
Kieran McEvoy and Heather Conway, 'The dead, the law and the politics of the past' (2004) Journal of Law and Society 31(4): 539–62
Jiri Priban, 'Reconstituting paradise lost: temporality, civility and ethnicity in post-communist constitution-making' (2004) Law and Society Review 38(3): 407–31
2004
Awarded jointly to:
Bronwen Morgan, 'The economization of politics: meta-regulation as a form of nonjudicial legality' (2003) 12(4) Social and Legal Studies 489–523
Amanda Perry-Kessaris, 'Finding and facing facts about legal systems and foreign direct investment in South Asia' (2003) 23(4) Legal Studies 649–89
2003
Claire Valier, 'Punishment, border crossings and the powers of horror' (2002) Theoretical Criminology 6(3): 319–37
2002
Douglas Vick and Kevin Campbell. 'Public protests, private lawsuits, and the market: the investor response to the McLibel case' (2001) Journal of Law and Society 28: 204–41
2001
Daniel Monk, 'Theorizing education law and childhood: constructing the ideal pupil' (2000) British Journal of the Sociology of Education 21(3): 555